In Chinese culture, the lunar calendar welcomes a different zodiac sign every year based on 12 different animals. Each year the sign is also coupled with five different elements – metal, water, wood, fire or earth.
In 2018, it will be the year of the Earth Dog. Many feng shui masters believe this will bring about much needed stability after the Fire Rooster in 2017.
Chinese people will typically seek out some guidance ahead of the lunar new year to ensure good fortunes are maximised and find ways to minimise the misfortunes.
So, are you ready to find out your good (and bad) predictions for the Year of the Earth Dog?
Step 1 – Find out what is your Chinese zodiac
Many people know their Chinese zodiac but not many know the element that goes with it. The animal characterises you as a person. The elements describe the interactions and relationships between things.
Step 2 – Find out your predictions
There are plenty of websites predicting the Year of the Earth Dog. I've spent hours going through them and picked out the best website and the best video based on a well-balanced view that tells you the both the good and the bad. For some zodiac signs, you might find conflicting predictions which is not uncommon – just go with what you feel is right.
Best Website – China Highlights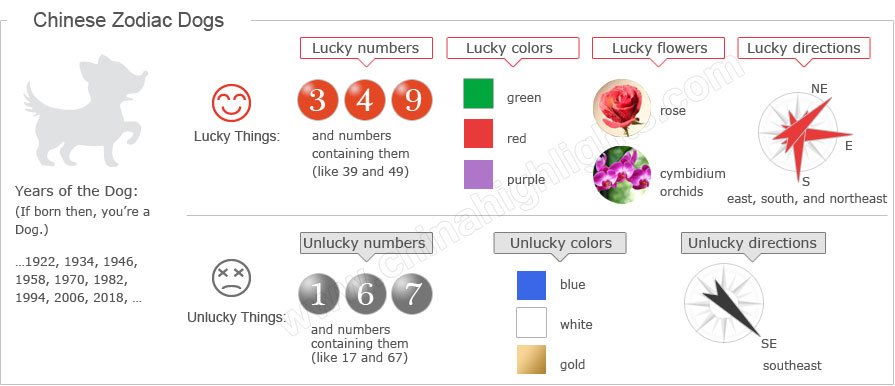 Best Video – 2018 12 Zodiac Forecast by Jacelyn Phang
Final Step – Pump up the positives. Negate the negatives.
Now that you've learned about your predictions, you're probably more worried about the negatives and have brushed away the positives.
Well, don't be!
Be motivated by the positive predictions and do even more to achieve stellar results. Amplify the positive energies by sharing the outcomes and showing gratitude to those who supported you.
As for the negatives, be cautious, be prepared, but don't be put off. For example, if the prediction says a travel injury may come your way, then instead of hiking in the mountains of Everest, choose somewhere safer with easy access to medical to minimise the negative predictions.
I hope to check in again with you at end of 2018 and see how accurate your predictions were and what strategies you developed to pump up the positives and negate the negatives.
Wishing you a very Happy, Healthy, and Prosperous 2018 Year Of The Dog! Xin Nian Kuai Le!
Eric Chuah is the founder of Cultural Connections, a multicultural researching and consulting firm working with government agencies, community groups, and private sector in New Zealand. He is currently serving as Independent Advisor for Multicultural New Zealand; Board Trustee for Auckland Regional Migrant Services; and Ethnic Media Advisor for New Zealand Human Rights Commission.